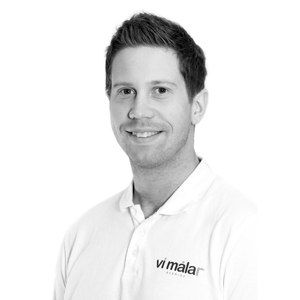 Kimmo Ilvonen, CEO
Vi Målar Sverige AB is a painting firm situated in Stockholm with over 30 years of experience. The company works with different types of painting jobs such as facade painting, interior painting, decorative painting and wallpapering. We asked some questions to the founder, Kimmo, on why it is useful to show your job references and how aajoda helps them in their daily practice.
What challenges/problems did you have in your business that led you to start using aajoda as a reference tool?
I knew that I had satisfied customers and that it is the best advertisement. But to gather our pleased customers testimonies together with pictures of the job done was not something we had the time to do. Until now there hasn't been any useful reference tool with a good enough approach to get out our references and opinions on or website and on social media.
"They helped us with implementation, strategic adjustment and we got to see how the technique really worked in live mode. "
Why did you choose to work with aajoda instead of other equivalent recommendation tools?
We met with representatives from aajoda and had a great first meeting. We weren't totally convinced from the start, but the follow-up and support was really professional. They helped us with implementation, strategic adjustment and we got to see how the technique really worked in live mode. We also felt safe and that it was risk free since it was free of cost to get it all started.
Was there any obstacles in the beginning of your try, and in that case, what were they and how did you come around them?
The pricing. Initially it felt like a great cost. But we got to try the tool for free in the beginning and pay first after delivery. We thought that if we only get in one order from these references then it is payed. During the first months we got a lot of support, we got enriched in our knowledge about references and got a whole bunch of new assignments where customers told us that they have seen our job references.
What was the most attractive thing about aajoda as a company and tool according to you?
To be able to show and integrate customer references on the website and to give reviews on pictures that are verified by the customers. Easy implementation on Facebook. We save a lot of time and have the ability to get our customer references out on the timeline with the click of a button.
Which benefits and specific results have you seen through implementing aajodas solution?
The presentation on our website. Both old and new customers say that they see our references and tell us that it looks really nice and neat.
Is there anything else you would like to add?
The support and follow-up has been spot on. They are always there for us when we need them. The strategical adjustment with several landing pages. A reference can end up on different places on the website via hashtags. If I have done a wall painting I can get it out where I want it and everything is preset.
Examples of how Vi Målar Sverige AB creates customer testimonials: