Madona Ayoub
Hairstylist
Salong Madona is a awarded beauty salon in Sweden that combines hairstyling, skin care, makeup and nail care. Madona Ayoub, the owner of the beauty center, has over 20 years of experience in the industry. She has a gold medal in hairstyling for men and a silver medal in hairstyling for women. 
We asked her a few questions on what she thinks about reviews and testimonials in her industry, and how the visual testimonial tool Aajoda helps her in her daily work.
Why did you choose to start using Aajoda / visual customer testimonials?
– I want to improve myself all the time, become better, follow the latest trends and because I care for my customers, what they think and how they feel. There's nothing more important to me than knowing that my client leaves happy from our salon. We can improve ourselves all the time by listening to our clients opinions and thoughts.
"It became easy for me to collect and share customer experiences in a trustworthy way."
What was your problem before and how did Aajoda helped solving it?
– It was hard for me to reach out, even though we are usually fully booked. I advertised much and was already active with before and after pictures on Instagram and Facebook. But with the Aajoda tool it became easy for me to collect and share customer experiences in a trustworthy way. The clients can speak about me and our beauty salon, about how we are and what we can do, and in the same time see results from other people that they can relate to. The best is that it goes faster than I could imagine to have them on our website.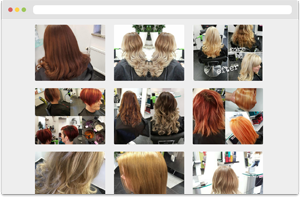 Did you notice any difference?
– Yes. It feels like everyone sees us now. I hear daily about how people talk about the work we are doing. We received a lot of new feedback, both from new and old clients. I myself feel more positive, happy and I work harder. Customer's confirmation gives new energy.
Are you satisfied? Would you recommend Aajoda to others?
– Yes. Because it feels easier for me now. We have so much to do and we got even more to do. But now we have more time for the customers and I don't need to worry that it wouldn't spread.
Example of how Salong Madona is using the reference tool from Aajoda: